The Los Angeles Fire Department's newest piece of equipment, with its bright yellow armored hull, tank-like treads, plow, and water cannon, is more like a "Star Wars" hero than a firefighter's combat helper. The RS3 mini-robot tanker is a fire destroyer capable of delivering a potent batch of water or foam and penetrating hard-to-reach areas for firefighters. LAFD was the first fire department in America to receive this new robotic system, preparing them for any fire disaster! 
After all, the firefighters put their lives on the line when fighting fires. Last year alone, 11 LAFD crew members were seriously injured in a firestorm that swept through four downtown structures after an explosion caused by hazardous materials. This is just one example of how much they risk every day without a second thought!
Firefighters can now use the RS3 as a safer alternative in dealing with potentially explosive flames by using it to reach the inside of any burning structure.
For example, if there is a high risk of collapse, firefighters have to retreat and switch to spraying water or foam tactics from the outside. This is often beneficial up to a point. But with the RS3, it is possible to fight a fire from the inside. The water jet can generate 2,500 gallons of water a minute - more than enough power to knock a man off his feet.
The robot can be controlled remotely. A heat shield allows it to run for 10 hrs. And its 5000-pound windlass can tow up to 1750 pounds.
The robot's first accompanied firefighters was when flames engulfed two commercial fabric manufacturing buildings in downtown Los Angeles. One hundred thirty firefighters fought it but were eventually called back because of the tremendous danger to human life! And a robot with a fire hose used the front end of its plow to clear its way and reach the inside of the burning building.
This was further aided by the fact that the RS3, the size of a Smart car, drives through double doors.
During a demonstration at the LAFD Training Center, the RS3 fire robot sprayed thousands of gallons of water, plowed a Chevy Celebrity, and traversed an assault course of railroad tracks with tenacious treads. Although the robot is designed for urban environments, it can overcome a 70-degree slope.
The underlying technology of the department's newest firefighting tool, LAFD, has already been used in Iraq, Afghanistan, and other countries. Oil corporations have also become interested in such flame destroyers.
The robot firefighter's chassis is modeled after U.S. military robots used to destroy IEDs and was created by the same company Howe and Howe Technologies, the Ripsaw tank developer.
The RS3 can serve as the eyes and ears of people in possibly explosive situations.  With its multiple HD cameras and an infrared thermal imager, it can find people and detect flames. The RS3 can drive right up to the seat of the fire.
The Fire Department's purchase of this robot was made possible not at government expense but thanks to a $272,000 donation from the nonprofit LAFD Foundation.
By the way, in Central Europe successfully passed the tests of the fire robot TrackReitar FFL, which was developed by the company Leotronics, a leading European manufacturer of mobile robots.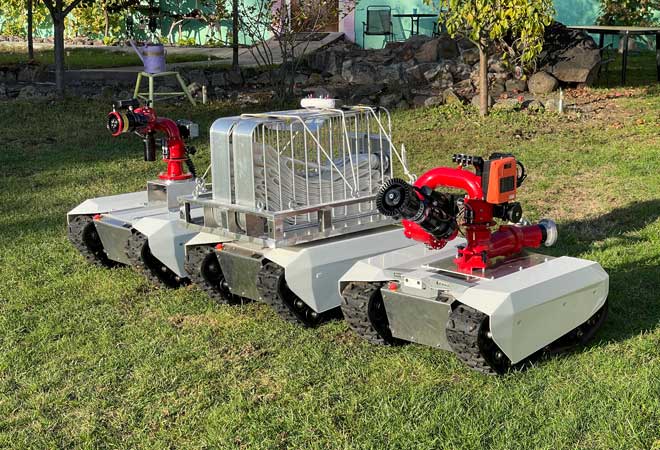 As a result of the field tests, it was agreed to continue working together Leotronics and the fire department of the Slovak Republic to create an affordable firefighter robot, which best meets the requirements of firefighters.
Fire department specialists note the vital importance of using robotic firefighters to eliminate fires and work in environments where the presence of people is dangerous.